Armstrong Luxury Vinyl
All luxury vinyl is made to handle life's many challenges, but not every luxury vinyl handles it quite like Armstrong. From one of the world's most beloved flooring manufacturers comes a family of luxury vinyl flooring truly like no other. Armstrong's luxury vinyl can truly take on the day, whether that day includes a family gathering, a frolicking puppy that has yet to master housebreaking, or a furniture re-arranging. At Kenny's Carpet One Inc. we carry several different lines of bold, beautiful Armstrong luxury vinyl flooring.
Inspired by the authentic visuals of organic stone, hardwood, and ceramic tile, Armstrong's luminous luxury vinyl boasts many, many benefits. In addition to its beautiful styles, both trendy and traditional, Armstrong luxury vinyl is easy to install, insanely durable, and a cinch to maintain.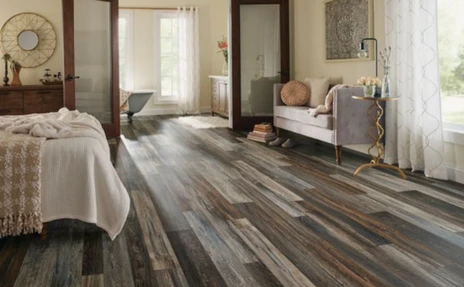 Luxe
A luxury vinyl plank that also happens to be 100% waterproof, Luxe offers up some of the most realistic hardwood visuals on today's market. With looks inspired by many different hardwood species, Luxe is also highly enduring. This makes it possible to enjoy beautiful "hardwood" looks everywhere from your bathroom to your finished basement: no one will ever guess your secret!
Vivero
Vivero is equipped with Armstrong's unique, patented Diamond 10 Technology. This unparalleled protective coating allows you to enjoy Vivero throughout your home. It can even be installed directly over your subfloor. Waterproof and wonderful, Vivero will make your home sparkle like a rare gem.
PRYZM
A rigid core floor offering both ultimate design and ultimate protection, PRYZM truly has it all. A favorite for families and pet-lovers, PRYZM resists water, spills, scratches, and damages. It never stops working, so you can live worry-free.