How to Keep Your Hardwood Floors Clean
Hardwood floors are a beautiful feature in many homes. In order to keep your hardwood floors in top shape, it is important to perform routine hardwood maintenance. Taking proper hardwood care will ensure your floors stay structurally sound and gorgeous for years to come.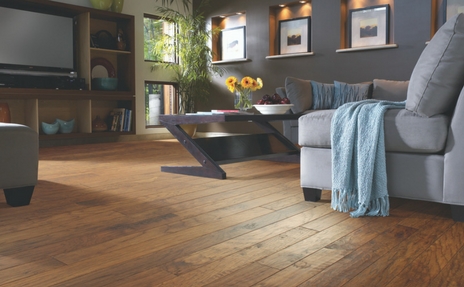 Routine Hardwood Maintenance
Properly caring for your hardwood floors requires routine maintenance. The first thing that comes to mind when caring for a hardwood floor is regular cleaning. Be sure to clean floors regularly, but only with a product that has been approved for hardwood floors. Never clean your hardwood with: a mop and water, wax that needs to be mixed with other products, or anything containing lemon oil, tung oil, or ammonia. All of these cleaning methods and products can damage both the aesthetic quality and structural integrity of your floors. In addition, using an improper cleaning method could void any warranties on your hardwood floor. The best method to find the proper product for your floor is to check with the manufacturer for their recommendations. If this information is not available, always look for a product that specifies that it is safe for hardwood floors and test it in an inconspicuous area before using it on your entire floor. Between cleanings, in the event of a spill on your hardwood floor, be sure to clean the spill promptly and follow up with an approved product to clean the area.
General Hardwood Care
In addition to regular cleaning and maintenance, there are other aspects to think about when caring for your hardwood floor. While they are beautiful, these floors can easily become damaged by regular household items. When placing heavy furniture on your hardwood floors, consider putting a rug down first or using floor pads on the bottom of the furniture. In addition to furniture, high heeled shoes, spikes, and your pet's nails can damage the floor as well. Even the sun can cause damage to hardwood floors. To limit sun exposure, periodically rearrange rugs and furniture to keep the exposure on all parts of the floor the same. You can also keep blinds closed to limit direct exposure. Proper hardwood maintenance includes taking precautions to limit damage by these items and situations.
Hardwood floors are a beautiful addition to any home. By properly caring for and maintaining your hardwood floors, you can keep them structurally sound and beautiful for many years.
Learn More About Hardwood



Hardwood Care

Visit our Flooring Guide to learn how to care for your new hardwood floors.

Hardwood Guide

We're proud to be your hardwood flooring experts in Carmel. Take a look at our hardwood guide to learn more about hardwood.